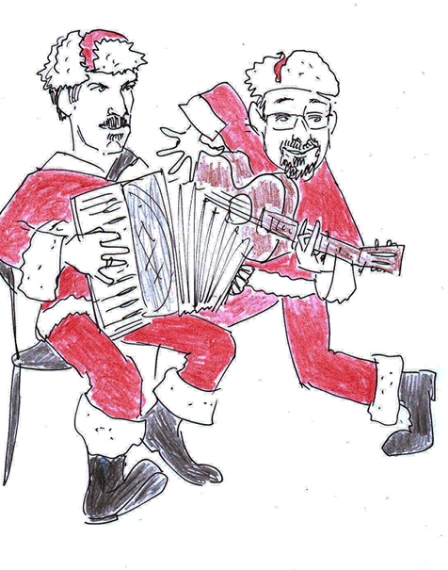 "Let it snow, let it snow, let it snow"
Santa Claus Dieter & Santa Claus Peter
Besinnliche, fröhliche bis überschwengliche deutsche und internationale Christmas Songs teils swingig, rockig, klassisch und volksliedhaft gespielt von Santa Claus Dieter & Santa Claus Peter.
Vorweihnachtlicher Spaß mit den singenden, swingenden Ruprechten.

Auch als musikalisch literarisches Programm mit lustigen und traurigen
Shortstorys und Gedichten rund um das Weihnachtsfest. Ein Weihnachtsfest
eben, wie es wohl die meisten von uns erleben, mit - im besten Sinne des Wortes - gemischten Gefühlen.
Mit Texten von : David Sedaris, F.W,Bernstein, Loriot, Ralf Sotscheck, Heinz Ehrhardt, Gerhard Polt
Monty Python,Harry Rowohlt...
Repertoire: White Christmas...Jingle Bells...Santa Claus is coming to Town...Rocking around the Christmas Tree... the Christmas Song...I'll be Home for Christmas... Irish Lullaby... Blue Christmas...Rudolph the Red-Nosed Reindeer... Joy to the World...Winter Wonderland, Let it snow...